cat toy gift pack
Kitty Pack, 7 cat toys

12

Average rating:

| Read all reviews

7 assorted cat toys

On Sale! $2.50



More information about: cat toy gift pack
7 pieces - toys will vary from pack to pack
Surprise your cat!

You might also like...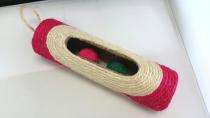 Sisal Tube with Rolling Balls
1
Average rating:

only
$6.00
Sisal Tube with Rolling Balls
add
Kitty Pack, 7 cat toys
12
Average rating:

12 reviews
|
Read all reviews
Featured positive reviews:
Kitty Pack, 7 cat toys

A great buy!
01/21/2015
This is the best buy a person can find. We have two young cats and they play with these toys over and over. The good thing is that there is so much variety in the pack that there is bound to be a "winner" in the group as far as having some of the cat's favorite type of toy. Actually, now that I have them I think I should have bought two packs. One for now and one for later for when their favorites have been "batted" some place where we and they don't know where they are. This is a wonderful company to deal with.
Kitty Pack, 7 cat toys

Cats Happy
12/04/2013
Great deal for the cat toys.
Kitty Pack, 7 cat toys

Good Quality Toys - Great Price!
01/28/2015
So far, the cats are loving the toys and the quality is good. Even the dog has been stealing the toys and they are withstanding his playful chewing. That's quality! The price cannot be beat.
Kitty Pack, 7 cat toys

LOTS OF TOYS
03/07/2018
My kitty tends to be "rough" on his toys, destroying them on a regular basis. The assortment from i-pets seem to last longer and are sturdier than others. The price is great. Sue
Kitty Pack, 7 cat toys

7 pc. Kitty Pack
05/12/2014
This was an outstanding buy -- so much for the money! Our cat has enjoyed playing with these new toys for hours. Many thanks!