Underdog Plush Toy
| Read all reviews

Plush Underdog Toy with Squeaker

only $3.00



More information about: Underdog Plush Toy
Approximately 9 inches
Toy has hidden squeaker
One toy only
Plush dog toy, great for puppies, light chewers, small & medium dogs
Made in China
Read our policy on imported items
You might also like...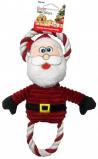 only
$4.00
x Plush Rope Toy Santa
add
1 reviews
|
Read all reviews
Featured positive reviews:
There's no need to fear…
10/07/2021
I didn't realize this was a talking toy !
My dog made it say "there's no need to fear underdog is here" about 150 times in a row and then chewed it too hard and it was forever silenced
A few days later i noted he had a blue thing in his mouth and was about to eat the small UD cape which had come off.
Great toy for a small dog, not the best for a bigger dog.