Medium, 7-8 inch braided USA rawhide stick
| Read all reviews

7-8" USA Braided Stick, Medium

only $2.20



More information about: Medium, 7-8 inch braided USA rawhide stick
1 piece, 7-8" long, 1 1/2" wide
100% USA rawhide, rolled up and braided. Excellent choice for any size dog.
You might also like...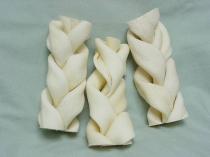 only
$6.60
USA Braid, Small, 3 - 4in, 10pcs
add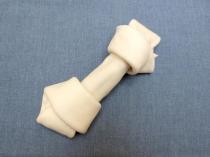 only
$35.20
USA Rawhide Bone, 7-8in, 12pcs
add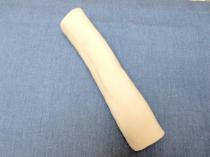 only
$37.40
USA Rawhide Retriever, 8in, 18pcs
add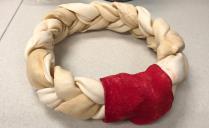 only
$4.00
x 7-in Holiday Braided Ring
add
68 reviews
|
Read all reviews
Featured positive reviews:
Sabertooth
10/28/2013
When they eat them half way and carry around the house, they look like a sabertooth tiger, haha. I have been shopping here for several years and the USA products are safe and do not have any additives that do not belong. They are safe and similar to FDA approved as we don't need to worry about recalls or warnings about the product. I have never been disappointed. My Golden Retrievers love these rawhide rings.
Brandy's Bones
12/09/2013
Brandy loves the braided rawhide bones. I've been buying these for over 10 years. Brandy, our golden retriever, likes to chew them as soon as she gets them. Our beagle liked to hide them and save it for later, unless someone else found it first. They are easy to order and come in a few days. I would definitely recommend this product.
Wonderful
01/22/2013
Was looking for a U.S.A. made rawhide for the dogs to chew on. That is what I got! These are well made, tough rawhides. I have a chewer that can go through some rawhides in a day. So far she has had this one for 3! Highly recommend. Shipping was really fast, ordered on a Monday, got them on Thursday. Great company.
Braided Chews
11/13/2013
My dogs ONLY like braided chews! The distributor in the local store discontinued them and in searching for a replacement is how I found i-Pets! Theses chews are a better quality, USA rawhide and a bargain when buying in bulk. I recommend i-Pets to all dog owners I know and meet.
Good quality
02/26/2013
I like the quality of these rawhides. Unlike other rawhides I have purchased, these do not have a nasty odor and they don't break into tiny, crumbly pieces after a few minutes of chewing. These are just the right size for my 60 lb. Weimeraner.