natural rawhide twists
| Read all reviews

Natural 5" Rawhide Twists

only $7.50



More information about: natural rawhide twists
Natural, unprocessed, water bovine hide
100 pieces ~ 5" long, 1/4" wide rolls
Made in China
Read our policy on imported items
You might also like...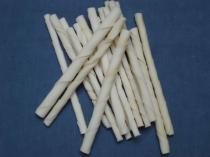 only
$10.00
imp Rawhide Twists, 5in, 100pc *LOW ON STOCK*
add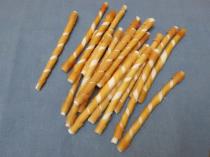 only
$4.00
Combo Rawhide & Porkhide twist sticks
add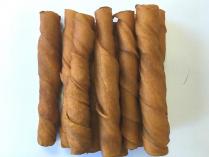 only
$13.50
Porkhide Twist Rolls, 5in, 30 pk
add
67 reviews
|
Read all reviews
Featured positive reviews:
Obsessed!
08/10/2015
My dogs are obsessed with these treats. I've been putting them in their treat balls (AKA the rubber babysitter) and they will quietly and methodically get every tiny bit out. The only trouble is that now the dogs don't want anything else!

The treats themselves don't stink, no greasy residue and hold up pretty well. They are crunchy rather than soft so crumbs are an issue.
My favorites
08/15/2014
I love that my owner got my favorite treats. We ran out and let him know we weren't happy so he better get the right treats from I-Pet. Now we are happy and loving again.

Thanks I-Pet
dog lover
08/04/2014
A person can't find chewies in bulk any where any more The the pet stores have small quanities
and they are expensive. These were a great find. My dogs love them. Thanks i Pets !
Natural Twist Sticks
07/07/2014
Just what I was looking for at half the price of all the retail pet chains. I will be purchasing from you in the future!

Thank you
rawhide twists
08/25/2014
my smaller dogs loves these. They are easy for them to handle
Featured negative reviews:
great service
01/19/2015
most of the twists were very skinny, but still quite pleased with order