10pack 5" Holiday Munchy Rolls w/ munchy wrap
| Read all reviews

10pk 5in Munchy Mini Rolls w/munchy wrap

only $2.00



More information about: 10pack 5" Holiday Munchy Rolls w/ munchy wrap
Holiday Gift Bag of 10 5inch red and green munchy rawhide rolls each wrapped in munchy rawhide
Caution: red and green dyed products may stain light color fabrics
Made in China
Read our policy on imported items
You might also like...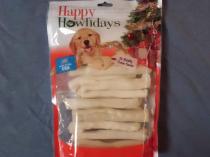 only
$9.00
x 22pk 5in USA Chip Rolls in Holiday Bag
add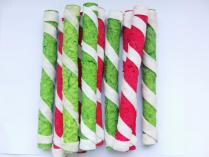 only
$5.50
x 10 pk 8in Holiday Munchy Stick w/ Rawhide
add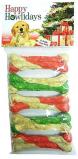 only
$3.00
x 5pc 4in Holiday Munchy Bone
add
3 reviews
|
Read all reviews
Featured positive reviews:
Great Buy
12/07/2017




















My dog loves to chew! And he seems to love these items, keeps him busy! Thanks for all the great buys!







Picky Precious
02/05/2018
THANK YOU SO VERY MUCH!!! PRECIOUS IS OUR WONDERFUL DOG WHO IS EXTRA PICKY!!! SHE ABSOLUTELY LOVES THESE!!! SHE IS SO HAPPY WITH THEM THAT I JUST REORDERED 10 MORE PACKS OF THEM!!!
Christmas Munchies
12/21/2018
Our dogs LOVE all the Christmas munchies we got them for Christmas! Yes, we have already broken into them!