10 inch USA Beefhide cane
| Read all reviews

10" USA Holiday Beefhide Cane

only $5.00



More information about: 10 inch USA Beefhide cane
10 inch long, approx. 1 1/2" thick

100% USA manufactured product

You might also like...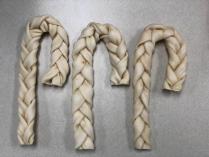 only
$5.00
3 pk 8in Holiday Peppermint Flavored Braided Rawhide Cane
add
12 reviews
|
Read all reviews
Featured positive reviews:
Candybone Cane smiles
12/30/2013
I wanted only USA made rawhide for my sisters dogs these "candy cane" shaped bones fit the bill. The dogs love the rawhide, and my sister is having a great time watching the smaller dog (a pug mix) try and get this one upstairs to her bedroom. So...the dogs are happy and as a bonus my sister has some comic entertainment!
SUCH A DEAL!!
04/13/2013
My Golden has had one of these for about 4 days now. That is the longest any rawhide has lasted him since he was a puppy. Since the price is great, I buy them all year and give him one a week. His teeth look great because of them and it keeps him entertained on rainy days.
Dogs love them
05/29/2014
My dogs love these chews and it is so nice to know they are USA products. Safer for my dogs.
As expected
07/31/2015
They were as advertised.


USa canes
11/27/2016
LOVE the USa rawhide...we discovered ants in the candy canes.....but not sure if they were in them when we got them....sugar ants....just in case ya want to check your supply😉.....Happy Holidays!