7-in Braided rawhide ring
| Read all reviews

7" Holiday Braided Rawhide Ring

only $4.00



More information about: 7-in Braided rawhide ring
7 inch diameter, approx. 1 inch thick, braided rawhide ring MADE IN MEXICO



You might also like...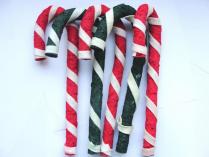 only
$5.50
x 5 pk 10in Holiday Munchy Cane w/ Rawhide
add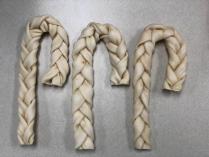 only
$5.00
3 pk 8in Holiday Peppermint Flavored Braided Rawhide Cane
add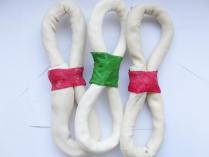 only
$8.00
x 3 pk 10in Holiday Rawhide Tug
add
2 reviews
|
Read all reviews
Featured positive reviews:
great
08/10/2018
My dogs love these- they really enjoy the shape and getting it broken down into small pieces any one of which can become the best piece ever and have then all three dogs taking turns stealing it from each other.
Love these bones
01/14/2019
I've been purchasing bones from i-pets.com for over 2 years. My dog LOVES these bones. They're highly digestible, so he never gets sick. The braided ring is sturdy and he loves trying to pull it apart.