Dingo® Mini Bones with Meat in the Middle
| Read all reviews

21 pieces in a pack

only $5.50



More information about: Dingo® Mini Bones with Meat in the Middle
Dingo® Brand's delicious rawhide chew with Real Meat in the Middle is mini-sized for your favorite little friend. Give one every day for a full dose of fun and flavor! Now with 25% more meat, these mighty bites are more irresistible than ever! Ideal for small and medium dogs.
Irresistible combination of Real Meat wrapped with the highest quality natural rawhide.
Great for your dog - High in protein.
Healthy, fun chew, to promote clean teeth and gums.
Pack of 21 bones
Approximately 2.5"
Made in Cambodia
Read our policy on imported items
You might also like...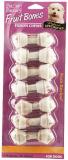 only
$3.00
Fruit FUSION Mini Bones, 3in, 7pc
add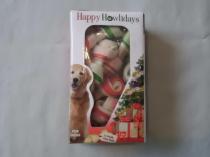 only
$5.25
x 14pk Holiday Mini BonesGift Box
add
1 reviews
|
Read all reviews
Featured positive reviews:
Love these guys
03/24/2021
I've been shopping with these guys for about 12 years. Excellent quality and excellent prices. I will not shop anywhere else.