7-8 inch USA rawhide bone, 12 pieces
| Read all reviews

7"-8" USA Rawhide Bone

only $35.20



More information about: 7-8 inch USA rawhide bone, 12 pieces
12 pieces ($2.45 ea)
100% USA product
Excellent choice for any sized dog.
You might also like...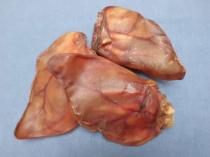 Product from Brazil
only
$41.25
Pig Ears - 25 pig ears
add
58 reviews
|
Read all reviews
Featured positive reviews:
Excellent product
04/08/2013
These rawhide knotted bones are one of my dog's favorites. He is a big time chewer and these will last through two 45 minute chewing sessions. They are excellent quality, made in the USA and reasonably priced. Easily ordered and arrive quickly.
The Best
02/27/2014
I only buy my Basset Hound (Anchor) these bones. I've bought others but he likes these the best. Forget buying them in the store and save yourself some money by buying the best and have it shipped.. Love it.. Thanks for such great products.
Tasty Bones
01/06/2014
According to my husky these are the best bones she has ever chewed! They seem to be of high quality and even for the "heavy" chewer last a long time. Can't go wrong with this rawhide. Order and shipping are easy and bones arrive swiftly!
USA Rawhide
08/21/2013
As always my shipment was quick, and the rawhide is the best quality! I have been a customer for years but my best friend passed away. We have a new puppy and we have introduced her to the same tradition!
usa rawhide bones 7-8 inch
12/27/2012
We have bought from I-Pets for years. They always have quality products at the best prices. We have researched other sites to purchase dog bones. You get quality products at the best prices hands down.