15- 17 inch USA rawhide bone, 3 pieces
| Read all reviews

15"-17" USA Rawhide Bone

only $32.00



More information about: 15- 17 inch USA rawhide bone, 3 pieces
3 pieces ($10.67 ea)
100% USA product
Excellent choice for aggressive chewers.
You might also like...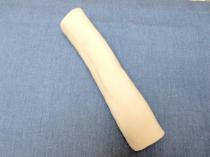 only
$34.00
USA Rawhide Retriever, 8in, 18pcs
add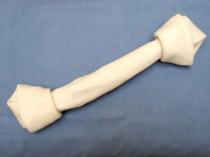 only
$32.00
USA Rawhide Bone, 12-13in, 4pcs
add
7 reviews
|
Read all reviews
Featured positive reviews:
Rawhide Dog Bones
03/14/2013
These dog bones are great for large dogs. My 80 pound lab loves them and thay last along time
USA RAWHIDE BONES
04/19/2017
These bones are package & made in the USA, I was surprise how many other stores have big print on their packages saying "made from 100 percent USA products" but if you read the entire package they were sent to a foreign country like Mexico, Brazil etc. for manufacturing. These bones were just greatly welcome by my Airedale. Keeps him busy for over a week per bone. I find ordering the bigger bones, takes the pet much longer to chew. An Airedale loves to chew constantly! Great product, shipped fast, and I received an answer to a question I had, over night. Great Company.
they love these
02/01/2017
I have two 8 month old Brittany pups, both big chewers. They love these huge bones, so much that I have to limit the time they spend on them. If I let them take the bones outside they won't come back in for hours and hours, and once it's dark I want them in the house! So I allow them to have the bones for an hour or so indoors when I need some quiet, then I wrap them and put them in the freezer until the next quiet time.
Great!!!!!
07/25/2016
I have ordered from this company multiple times and they provide great products and great service. This is the best place to buy rawhide bones for my two power chewers. USA made rawhide and great prices. Fast delivery to my home. Thank you for providing such great products and service.
Best price great quality!
04/27/2020
I have two large dogs that can go through rawhide chews. These are a great size and a great price. I have shopped around and found the same size that are completely hollow and are almost twice the price! I could not be happier!!