USA rawhide chips, 5 pounds
| Read all reviews

USA Rawhide Chips---- Due to labor and material increases, requests for thin and/or thick chips, small or large chips will no longer be honored. We apologize for the inconvenience.

only $32.00



More information about: USA rawhide chips, 5 pounds
approx. 75 pieces in a 5 lb. pack ($0.39 ea)
100% USA product
Excellent choice for smaller dogs, puppies, and non-aggressive chewers.
You might also like...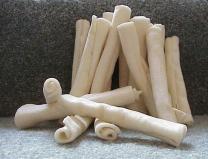 only
$16.00
USA Rawhide Chip Rolls, 36pcs
add
287 reviews
|
Read all reviews
Featured positive reviews:
Good source for USA rawhide
05/30/2013
i-Pets will kindly sort out smaller chips if you request them. I've been buying these for years and the quality has been maintained. There was a price jump recently, but it was the first since I started purchasing, so probably understandable. It's still more cost efficient (and less packaging waste) than purchasing smaller bags at pet stores. Very fast shipping. I know I can be within a few days of running out and my order will be processed and shipped quickly. I buy two 5-lb. bags at a time for my two medium-sized dogs and the two bags last me about six to eight weeks. The shipping cost is the same for one or two bags, so I save a little more by ordering two bags per order.
Dogs find them yummy!
02/04/2013
I can't personally speak to the taste, but my dogs love the USA made rawhide chips, and the pressed rawhide bones. The bones are special treats when we have dinner guests, and entertain the dogs during the meal. The chips are a favorite morning treat during mom and dad's coffee a few times a week. Each chip lasts for several sessions. The vet said he can tell what side the dogs prefer to chew the chips because their teeth are very clean on that side. I love that the chips are made in the USA, and i-pets has the best price I've found anywhere.
The best chips hands down
11/18/2014
I need my first review removed; I didn't like the small standard size of the chips.
After that order, I-Pets was more than willing to cut the chips to an approx 4x6 size to accommodate my large breed dogs and they are fantastic. There isn't a better American rawhide chip out there, they aren't 1/2 inch thick brick, unmanageable tooth hazard, they are a true chip which I prefer to offer to my dogs. I generally order 2 bags of 5lbs at a time to save on freight and just make a note in the comments about the size of the chips we need. Perfect.
Our Dogs Love Them!
04/27/2013
After all the recent problems with animal products made overseas, I decided to switch to products made in the U.S.A. only. These chews are much whiter and more uniform in size and actually last longer. The chews I was purchasing previously were very yellow, sometimes brownish and varied in size drastically. Besides that, they weren't very long lasting and only provided a few minutes of "chewing enjoyment" for my dogs. In addition, these are a better value. Overall, a great product that is safe for my sweet dogs!
Incredible
04/29/2013
You guys are great! Having large dogs I asked for bigger chips. I wasn't expecting them to be as wonderful as they are. Truly great quality....and Thick! You have no idea (well maybe you do) how hard it is to find thick chips, and knowing these come from the good old USA just makes them that much better. I only wish I knew about Julie and the gang at I-Pets sooner. Great products and service. Thanks for picking the large chips for my big 'kidz'. We don't buy their treats anywhere else! The BEST :-)
Featured negative reviews:
Flip Chews
11/18/2020
Hi to be honest I am unhappy with the flip chews. I've been coming to you a very long time but the last order was not so good. They were potato chip thin and I could literally tear them in half like paper. I could see through them. It took my dogs actually 2 to 3 minutes to finish it. But I have to have them so I'm ordering another 5lbs today. Hopefully this order will be more toward medium thickness. Thank you, Mark