USA rawhide chip rolls, 36 pieces
| Read all reviews

USA Rawhide Chip Rolls

only $16.00



More information about: USA rawhide chip rolls, 36 pieces
36 pieces ($0.38 ea)
6" long x 2/3" wide
100% USA product
Excellent choice for smaller dogs, puppies, and non-aggressive chewers.
You might also like...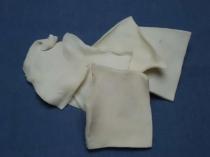 Due to labor and material increases, requests for thin and/or thick chips, small or large chips will no longer be honored. We apologize for the inconvenience.
only
$32.00
USA Rawhide Chips, 5lbs
add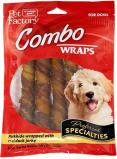 only
$4.50
Porkhide Twist Rolls w/Duck Meat, 6in, 4pcs
add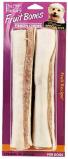 only
$4.50
Fruit FUSION Retriever Rolls, 8in, 2pcs
add
128 reviews
|
Read all reviews
Featured positive reviews:
As Always, A GREAT Item at a GREAT Price!
02/27/2015
I've written previous reviews for Internet Pets, and I'll repeat some of what I've said before: We are EXTREMELY picky about the rawhide we give to our Catahoula Leopard Dog, Riley--not just because he is an aggressive chewer, but because we want ALL-USA RAISED AND PROCESSED RAWHIDE, not that !@#$ that comes from China or South America. IOHO, I-Pets is the BEST retailer of American rawhide ANYWHERE! The product selection is GREAT; the pricing is GREAT; the Shipping Fee is downright CHEAP (in the good way!); and the Shipping itself is SUPER-FAST! Riley LOVES the Rawhide Chip Rolls...he not only chews them, he tends to play with them beforehand--tossing them in the air, pouncing on them, etc. So, I guess for some folks, the rawhide has "entertainment value" as well :-)

We HIGHLY RECOMMEND I-Pets to ALL the canine parents we know, and to EVERYONE and ANYONE looking for TOP-QUALITY products at VERY REASONABLE prices.

To Julie and her crew, PLEASE keep up the TERRIFIC work!
Good for cleaning teeth
04/15/2014
Some people say that giving rawhides to dogs is not good. I think it is all in the way you go about it. Our dogs are given a rawhide after their breakfast and dinner. We set a timer for 20 minutes and when the timer goes off, they know that it is time to give them up. That way they do not swallow too much rawhide at one time and the effect it has had on keeping their teeth, especially their back teeth, clean is truly amazing. We were having to get their teeth cleaned by the Vet every two years. Since starting the rawhide "treats", it has been 4 years and we are just now at the point where the front teeth need to be cleaned. i-Pets.com service is fast and efficient and we and our Doxies are very happy.
A Welcome USA Company
10/26/2013
It has become hard to locate pet supplies that you can trust. There are so many retail stores that stock only the imported pet supplies that may or may not be safe for pets (this also applies to people). Our dog OP loves this size rawhide chip rolls and it is very hard to find them in retail stores that are made in the USA and they are usually overpriced. I-Pets not only has a fair price but can also provide some personal services. We found that on the first order the chips were too hard for OP and they offered to have me let them know when I placed my next order and they would try to make them thinner and rolled less tightly. So you can see why I a pleased to recommend I-Pets.
outstanding
03/06/2014
Not all rawhide is created equal. Doggies love rawhide but sometimes enjoying it can be a problem for smaller doggies. This company has solved the problem. When I order these rawhide chips, I ask that the material itself is very thin before it is rolled. It is the perfect solution for doggie enjoyment. The thin material allows smaller doggies to enjoy it but it is easier for them to chew. I am happy that the doggies have such a special treat plus the doggies are happy. The added benefit is that the chips are all USA. I have been purchasing from i-pets for years and they never let me or my doggies down.
I-pet chip rolls are the best
10/19/2015
These chip rolls are nice and thick and not the wrapped thin layers of rawhide made by other companies. My beagle mix puppy can consume the lower quality chip rolls so fast and had at least one very scary choking event (and ,yes, we always supervise chewing). I-Pet's rolls are super thick and last for days rather than hours. When it gets down to the worrisome short length, I trade my puppy for a new one. Then I soak the remaining roll so that I can unroll it, cut it into strips, and dry it for my senior basset mix girl who no longer can handle the thicker whole rolls. Works out great for all.