3-4 inch USA rawhide donut, 12 pieces
| Read all reviews

3"-4" USA Rawhide Donut

only $17.60



More information about: 3-4 inch USA rawhide donut, 12 pieces
12 pieces ($1.16 ea)
100% USA product
Excellent choice for any size dog.
You might also like...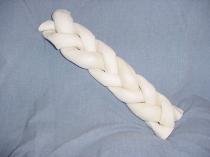 only
$2.20
USA Braid, Medium, 7-8in
add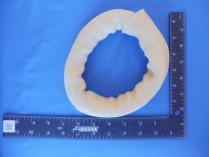 only
$8.80
Seconds / USA Donuts, 6in, 3pcs
add
59 reviews
|
Read all reviews
Featured positive reviews:
Best Gift Ever! said my doggies
08/20/2014
I'm writing this review on behalf of my doggies. They want to say "thank you!" for having such delicious and fun treats available to them, which are also safe for them as they're Made in the USA!
They enjoy them every day and their teeth are kept clean too.
Excellent product that I always reorder for them.
I-pets is the BEST place for these!! BEST prices!! BEST quality!!
Clever
02/02/2013
This was something different I thought I'd try for my Dachshunds, they're the perfect size for the little guy and gal to carry around, stash in their favorite hiding places, and of course gnaw on. I really love the I-pets products and love that they are USA made, so I know they're not getting anything they shouldn't be eating. Thanks
Safe Rawhide
10/28/2013
I have been shopping here for several years and the USA products are safe and do not have any additives that do not belong. They are safe and similar to FDA approved as we don't need to worry about recalls or warnings about the product. I have never been disappointed. My Golden Retrievers love these rawhide rings.
Best Products!
02/18/2014
Great chews at great prices. My dogs love them. I love the fact that they are Made in the USA so don't have to worry about any side effects or recalls. Love buying from i-pets.com as well. Always fast shipping and excellent quality. I recommend highly.
Great Chewys
02/10/2014
The Scottie loves them--The vet not so much--Keeps her teeth too clean to charge a bundle for him too clean them. Highly recommend these as does the Vet. The donut shape is the safest way for the dog to enjoy.