4 to 5 inch USA Rawhide Retriever, 16 pieces
| Read all reviews

4" to 5" x 1 1/2" USA Rawhide Retriever Rolls

only $17.60



More information about: 4 to 5 inch USA Rawhide Retriever, 16 pieces
16 pieces ($0.87 ea)
100% USA product
Excellent choice for any size dog.
You might also like...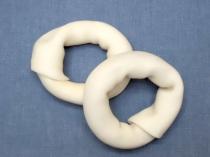 only
$17.60
USA Rawhide Donut, 3-4in, 12pcs
add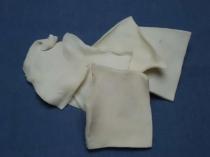 Due to labor and material increases, requests for thin and/or thick chips, small or large chips will no longer be honored. We apologize for the inconvenience.
only
$35.20
USA Rawhide Chips, 5lbs
add
127 reviews
|
Read all reviews
Featured positive reviews:
We Love Retriever Rolls
03/09/2013
We buy 5" Retriever Rolls on a regular basis. Our two Labs Holli and CoCo get one everyday after mealtime and they love them. Our Vet says it's fine to give them the rolls and it helps keep down the tartar. The dogs head right for the "cookie jar" waiting for their roll after eating. Sometimes Coco tries to steal Holli's in order to get two. Holli will come to me and whine and that's when I know something is up. I get it back for her and all is well. Thanks i-pets for a great product.
Nice, Solid Rawhide
08/05/2014
I've used I-pets for a few years now and I always get consistent products. Very durable and long lasting these rolls satisfy even our roughest chewer. I've also never (or very very rarely) seen our dogs eat these whole, which is a major plus. The only drawback is the diameter of the roll. The dogs don't care...it becomes a game to figure out how to chew them. Even our 12 week old Chihuahua can manage them, so it's not that big of a deal.
Keep 'em coming!
01/15/2014
My mom gives me one of these every day, and they are THE BEST rawhide rolls! They are the perfect size for a lazy basset/border collie, they are long lasting, give me lots of quality chew time, and are easy to digest. When we are running low, heaven forbid, she orders more and they arrive within a few days. I would only be happier if she gave me three a day instead of one, but oh well. . . . Great product and made in USA!
Daisy's crazy for rawhide!
08/07/2013
My dog can't go without her daily rawhide roll, so being able to buy these in larger quantities and at a great price is wonderful. The rolls are long lasting and just the right size for her. I have seen no digestion issues or small parts breaking off. I-Pets is a terrific company to deal with -- shipping is prompt, ordering is easy, and, judging from Daisy's reaction, the rolls taste great!
5" Retriever Rawhides
02/22/2013
My Labradors love these rawhides and they last over an hour or more. Normally when I buy rawhides, I'd get them at Target and they would only last around ten minutes. Basically,Target's rawhide bones are hollow. These rawhides last much longer, are very dense plus they are from the USA and aren't treated with some nasty chemicals. Great product and buy. Thanks i-pets.