10 inch USA Rawhide Retriever, 12 pieces
| Read all reviews

10" x 1 1/2" USA Retriever Roll

only $35.20



More information about: 10 inch USA Rawhide Retriever, 12 pieces
12 pieces ($2.45 ea)
100% USA product
Excellent choice for larger dogs.
You might also like...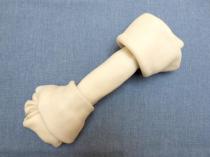 only
$35.20
USA Rawhide Bone, 9-10in, 8pcs
add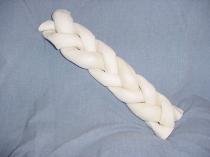 only
$2.20
USA Braid, Medium, 7-8in
add
106 reviews
|
Read all reviews
Featured positive reviews:
Long lasting, excellent quality!
02/07/2014
I adopted a pitbull puppy with severe mange, as a result she has ended up with a very sensitive immune system and gut. She can't have treats or bully sticks like other dogs. I was so relieved to find these high quality rolls. They don't upset her stomach and they really stand up to power chewers. These are the only edible chews she can safely have! Thanks i-pets!!
Raw hides
08/12/2013
My German Shepherd, Brunhilda, loves these! She has great fun hiding them as well as chewing on them. I find them in the funniest places, such as between couch cushions, under beds and behind toilets. I'm so glad to find raw hides that are not made in China or Mexico!!! Thank you!! We will continue to buy these from you! Great product!!!
Great Bones!
10/15/2013
My dogs were all sniffing the box as soon as my husband brought it home. They love their new bones and so do we because they are safe, well priced and last much longer than the Made in China bones sold everywhere that I look locally. Great company, fast delivery and, best of all - Made in the USA products!
Excellent Buy.
02/22/2013
My dog is an avid chewer and he loves the USA Rawhide Retriever rolls. Each provides hours of chewing pleasure. I have purchased many rawhide brands over the years and these are the best I've found for quality and cost. Customer Service is outstanding and willing to help with all questions or concerns.
Great find!
08/20/2016
I only buy rawhide for my dogs that are made in the USA after almost losing a German shepherd to hook worms that came from foreign processed rawhide (they don't have the standards we have here!) My new pup loves these! They are thick and satisfy her need to chew. Great prices! Thanks iPets!
Featured negative reviews:
USA Rawhide Retriever, 10 in
12/15/2014
Not what I expected. Good price, but bones just brake up into pieces when our dog chews them and we have "bone guts" all over the floor. Thought if made in USA would be better product, but would not buy again.