3 Bone Rubber Disc with Rope
3 Bone Rubber Disc with Rope

4

Average rating:

| Read all reviews

3 Bone Rubber Disc with Rope

only $5.00



More information about: 3 Bone Rubber Disc with Rope
8" Heavy, tough rubber for hours of vigorous chewing attached to heavy weight stiff rope

You might also like...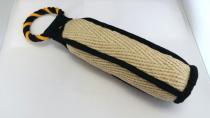 only
$6.00
Big Pull Tug
add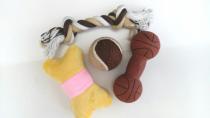 only
$5.00
Tug Toys Value Pack, 4pk
add
3 Bone Rubber Disc with Rope
4
Average rating:

4 reviews
|
Read all reviews
Featured positive reviews:
3 Bone Rubber Disc with Rope

My dogs love to plat tug
06/04/2015
This has been a very good toy for my dogs, I have a Russian Wolfhound and an Irish Wolfhound. They love to play tub and this toy stands up to their ruff playing. For only $5.00 it is well worth it.
3 Bone Rubber Disc with Rope

Not as tough as I hoped
12/30/2013
Caine corso destroyed this in minutes
Featured negative reviews:
3 Bone Rubber Disc with Rope

This is not a good product "for MY dog"...
08/11/2014
I have a 11 month old Doberman "puppy."(95 lbs.) He loves to chew--on anything. He's been taught to chew on his toys, rawhide chewies, cow bones, etc. Along with a bunch of rawhide chews, I bought this toy, thinking that, by the looks of it, maybe it'll last awhile. We gave this to him when I got home from work with it (delivered to my business) at around 7 PM. By 7:20 PM the rope from this toy was GONE! Well, not really gone. Spread all over our house in little-bitty pieces. The rubber seems pretty sturdy. He's been playing with that part for about a week now and hasn't completely destroyed it yet. This is NOT a good toy for a large-breed dog with aggressive chewing tendencies!