Banana chunk wrapped with chicken meat filet
| Read all reviews

Banana with Chicken Wrap

only $4.00



More information about: Banana chunk wrapped with chicken meat filet
Fruit for dogs!
8 ounce pack ~ Approx. 25 pieces
Dehydrated banana and yummy chicken meat.
Made in China
Read our policy on imported items
You might also like...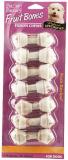 only
$3.00
Fruit FUSION Mini Bones, 3in, 7pc
add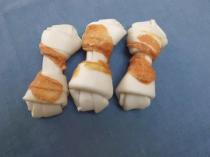 only
$2.50
Rawhide Bone w/Chicken Wrap, 3pcs
add
23 reviews
|
Read all reviews
Featured positive reviews:
Banana with chicken wrap
02/19/2014
LOVE EVERYTHING WE GOT - MORE IMPORTANT THAN THAT - SO DO MY DOGS :) WILL BE ORDERING MORE IN NEXT FEW DAYS. THANK YOU. MY DOGS WENT BANANAS FOR THESE. WILL BE ORDERING LOTS OF THESE!
Good Treats
11/04/2015
I used to buy Happy Hips (I think they were made overseas) and my dog loved them. I found these and she loves them even more. Nothing but banana and chicken I love that!
Bannana w/Chicken Wraps
12/12/2013
A very good experience with purchasing this product. I would for sure purchase this in the future.
Not so much for the Carrots!!
11/29/2014
the negatives would be, apparently my JRTs don't like their carrots like their momma does!!

The round crunchy discs didn't go over w/everyone. I have (3) JRTs & (1) poodle. Only the male Jack ate n liked the crunchy disc.

Now we come to the hands down crowd pleaser, drum roll please, the banana wraps!!! Paws down & hi-4s n a dew claw In the air from all four (4) of my dogs!!

I will be back for them alone & it is a generous amount for the price!
She absolutely loves them!
07/25/2018
I found these banana chicken wraps when looking for a healthy alternative to puperonies. We call them "bananas". When she has finished her supper I ask if she wants a banana and she goes wild.
This is a wonderful product.
Featured negative reviews:
Is this a natural product?
10/19/2019
My dog loves these, but I am unable to find out exactly what is in this. I've looked on line, but cannot find a list of ingredients OR what other stuff might be in these. Are they made in the USA? or China? I know there have been major issues with Chinese imports of this product. Please help me.