3" Bones wrapped with chicken meat
| Read all reviews

Rawhide bone wrapped with chicken meat

only $2.75



More information about: 3" Bones wrapped with chicken meat
3 piece pack, 3" white beefhide bones wrapped with chicken meat
Made in China
Read our policy on imported items
You might also like...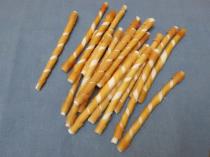 only
$4.40
Combo Rawhide & Porkhide twist sticks
add
7 reviews
|
Read all reviews
Featured positive reviews:
Nice treat
10/26/2020
For this price, my 2 goldens, get these as a special treat over and above the regular USA Braid rawhides. They love the chicken wrap as that is always the first of these to go.
Made in the USA
06/08/2020
I buy all of our rawhide cheews from I-Pet because they are made in the USA, they are reasonably priced and my 2 large dogs LOVE them.
great items
09/10/2017
My dog loves these wrapped rawhide bones, she sits still and chomps til the one she is given is gone. She's a 70lb Goldendoodle.
Customer Service
10/30/2014
i-Pets service is fast. I always get my orders very quickly....Happy customer.
good deal
06/05/2017
dog loves these and I'm happy they are made in the USA