Peanut Butter Rawhide "potato chips" for dogs
| Read all reviews

Peanut Butter flavor thin rawhide chips

only $3.00



More information about: Peanut Butter Rawhide "potato chips" for dogs
3 oz bag, approx 25 pieces
Peanut Butter basted rawhide chip chews. Chips are ideal for that quick chew between meals.
Coatings are water soluble, but may stain indoor materials.
You might also like...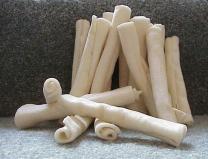 only
$16.00
Clear Basted Chip Rolls, 36pcs
add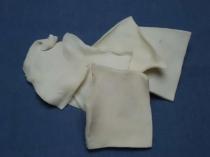 only
$29.50
USA Rawhide Chips, 5lbs
add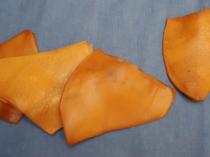 10 piece pack
only
$5.00
Porkhide Chips, 10pcs
add
13 reviews
|
Read all reviews
Featured positive reviews:
Chompin chips
03/19/2013
All my dogs love those chomping chips. Every night after supper, all three dogs stare at the cupboard where I keep there treats until they get a treat. They love these and other rawhide chips that I have bought from you. Thank you!
Paw Approved!
01/08/2014
I wasn't sure about these the first time I bought them, but the 12 y/o dog prefers these over the too-tough rawhide chips. This is my 2nd order of these and I know I'll buy them again.
Chompin Chips
05/17/2013
My monsters love these! Great product. Will continue to order. Also, great $$ value for the quantity that you get.
Repeat item
05/19/2014
I have bought several packages of these, the dog loves them and they are small/thin enough for my senior lady.
Yummy chips
03/05/2013
My Pom LOVES these! Perfect size and flavor too. DEF reorder.