More information about: rubber tug toy
Solid, heavy, tough rubber for hours of vigorous chewing! Variety of colors, let us select for you, please.
Made in China
Read our policy on imported items
You might also like...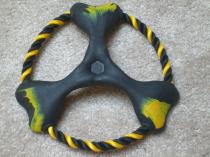 only
$3.00
3 Bone Rubber Disc with Rope
add
3 reviews
|
Read all reviews
Featured positive reviews:
durable tug-of-war toy
03/13/2013
Now THIS is an awesome tug-of-war toy! My dog LOVES this toy! She's just a strong girl and loves to play tug-of-war with anyone who is up to the challenge. And this toy withstands her strength. Love it!
Great products
08/02/2021
I can always get the best quality from you. That's most important!
Solid toy works as expected
07/10/2013
Great toy