plush and rope dog toy
| Read all reviews

Large Bird with Rope Legs (with hidden squeaker)

only $3.00



More information about: plush and rope dog toy
approx 12 " ball with plush body, rope legs and wings

You might also like...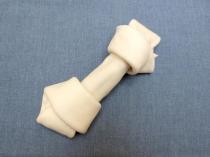 only
$29.50
USA Rawhide Bone, 7-8in, 12pcs
add
5 reviews
|
Read all reviews
Featured positive reviews:
great toy!
08/15/2014
I don't know why, but this toy is by FAR my dogs' favorite toy from this site!! they go BONKERS for it, and tussle with it together or solo for hours, even after the stuffing is all pulled out. Even when they shred it in pieces they'll play with the separate pieces.
Funny
11/17/2013
The different types on construction on this toy made it really fun for my dogs. It lasted the least amount of time before being destroyed and you do have to be careful about the strings from the rope but it was fun while it lasted.
they must have loved it
09/30/2013
This was the first toy out of the box. I haven't seen it since so they must have loved it!
the bird flies
10/14/2013
The dogs have a great time with this bird, even after the stuffing was torn out. I wish it would have been a little more durable, as my 10lb girl had the stuffing out in no time at all.
First thing to get hidden
07/08/2019
Big hit in our house. Just something about the shape was very attractive to my pack. It's Equivalent to the remote-somebody's always hogging it.