15" Braided Holiday rawhide cane
| Read all reviews

15-in Braided Cane w/Red Bow

only $5.00



More information about: 15" Braided Holiday rawhide cane
One white braided rawhide cane, approx 1" diameter in shrink wrap with red bow
Made in China
Read our policy on imported items
You might also like...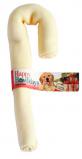 only
$5.00
x USA Holiday Cane, 10in
add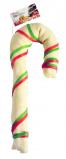 only
$5.50
x 12in Medium Holiday Cane
add
6 reviews
|
Read all reviews
Featured positive reviews:
Great buy and Skippy loves 'em
06/09/2014
We have a Bishon who looks silly carrying anything so big but he loves these things. We have tried store bought rawhides and he just lets them lay. Store bought-$10.-$12.00.
I buy these 10-12 at a time. What a deal! I don't know what the differed is between these and the others that make him like these so much but.... No contest.
Holiday bones
11/28/2018
I was alttle worried about ordering from a site I have never heard of. The prices were so low that I was unsure of the quality. But I was pleasently suprized when the shipment came fast and all the products looked great! I am so happy to find someplace with reasonable prices so I can spoil my fur babies! Just wish it was free shipping;)
Great bones
01/30/2021
Our pup loves the one he got for Christmas so we bought a few more to spread out thru the year (his bday, Easter, thanksgiving). Great quality can't beat the I-pets price either!
Holiday braided cane
10/02/2015
Our dog loves them. We order a dozen at a time. He doesn't like store brands. He needs something to chew each day so that he doesn't resort to shoes!! This works.
Great product
11/21/2016
Everything I purchase is a great buy, all three of my labs love everything