5-6 inch USA heavy weight rawhide bone, 15 pieces
| Read all reviews

5"-6" USA Heavy Weight Rawhide Bone

only $29.50



More information about: 5-6 inch USA heavy weight rawhide bone, 15 pieces
15 pieces ($1.96 ea)
100% USA product
Excellent choice for aggressive chewers.
USA Heavyweight rawhide is 100% USA beef rawhide manufactured from the "double bend" part of the hide which is the dense and thick fiber section.
You might also like...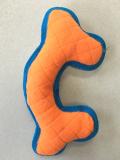 only
$3.00
Tough Plush Curved Bone Toy
add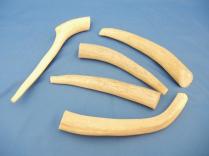 only
$9.50
Deer Antler Chew - Small- ONE PIECE
add
31 reviews
|
Read all reviews
Featured positive reviews:
Valuable knotbone
04/08/2014
This is the first bone that Chief tried after barking back the delivery guy who dropped off our order. He couldn't believe his luck! In fact, the first thing that he did was take it outside to bury it - it was clearly too valuable to eat. Chief only does that when he thinks something is priceless.
The bones he's received since then are gnawed on ferociously but they last and last. This is a great knot bone.
Heavy Weight Rawhide
02/08/2013
My Dobermans love these heavy weight rawhide bones. they keep busy for hours chewing them. they are especially good for my young dog who is still teething.
rawhide bones
02/26/2013
As usual, the order arrived promptly within a few days. My two labs LOVE their bones and can't wait till they get one each day.
MEwoman
04/04/2013
These raw hides are a good buy for the money. It takes my dog Riley, all 90 lbs of him, a little bit longer to go through one.
Great little treat for big dogs.
09/16/2013
Love i-Pets! can't get a better deal anywhere. Dogs are always very happy when the "big box" arrives! Carol
Featured negative reviews:
Not very heavy or thick
02/10/2014
I have gotten the larger size of these bones and been very happy. Im not sure if they sent me the regular rawhides on accident but these are not very heavy or thick. I'm not impressed with these smaller bones. I will have to stick to the larger ones I guess.