Irregular USA rawhide donuts
| Read all reviews

6" x 6" Seconds USA Rawhide Donuts

only $8.80



More information about: Irregular USA rawhide donuts
3 pieces for only $8.00!

The color or shape wasn't perfect enough to package them individually.
Some are quite ugly, but DOGS LOVE THEM!

You might also like...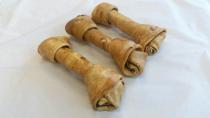 only
$11.00
9in USA bone - Dark chick basted, 3pk
add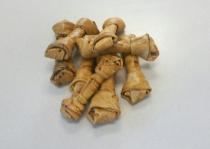 only
$26.40
9in USA bone - Dark chick basted, 8pk
add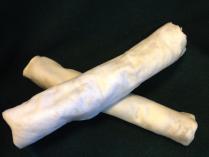 only
$32.45
Seconds / USA Retrievers, 8-12in, 10lbs *LOW ON STOCK*
add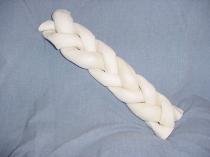 only
$2.20
USA Braid, Medium, 7-8in
add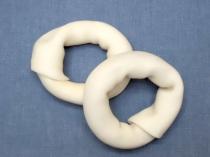 only
$117.60
USA Rawhide Donut, 3-4in, 12pcs
add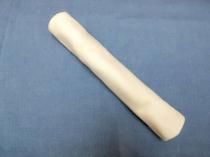 only
$35.20
USA Rawhide Retriever, 10in, 12pcs
add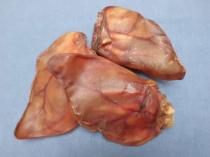 Product from Brazil
only
$19.80
Pig Ears - 10 pig ears
add
21 reviews
|
Read all reviews
Featured positive reviews:
First Donuts
08/04/2014
This is the first donut we've bought for our GSD. She gets SO excited over being able to put her foot through the hole and chew. Plus these last a LOT longer than any other rawhide she's had, which is a plus!
Large donuts are a big hit!
03/31/2020
My two Dobermans absolutely love these large donuts! It's always difficult to keep them happy with treats that last more than 10 minutes. The beef basted donuts are doing the impossible. They keep their attention as well as being very long lasting.
I highly recommend these.
In addition, they arrived in a very timely manner. I was very surprised and pleased as this was my first time ordering these. In certainly won't be our last.
USA Rawhide Donuts are the only ones I ever order!
05/13/2022
This is the second time I've ordered these USA made rawhide donuts and all my dogs love them! My little chihuahua loves to run around with a 6" donut that's way too big, but I don't have the heart to take it away so it lasts for a few months with her. Great prices and fast shipping…I highly recommend to any parent ordering from I-pets!
Always pleased!
08/31/2020
Hi Julie,
I have been a long time customer of I-pets and am always pleased with the items I purchase, the price, and the customer service. Having 9 dogs, (all but one are rescues), between us and our daughter I'm extremely happy to have found out about this company.
Sincerely,
A crazy doggy family

nice size
10/06/2022
i love your rawhide rolls, and last time i ordered three of the donuts ! my dogs had a blast with them !! one loved tossing it up and catching it with her nose thru the hole !! they also lasted a long time for chewing ! that is why i ordered more this time!