5" Porkhide twist rolls, 5 pk
| Read all reviews

5pk 5" Holiday Porkhide Twist Rolls

only $2.00



More information about: 5" Porkhide twist rolls, 5 pk
5" white porkhide twists with a wrap of colored porkhide strip
5 pieces per pack
Flavor coatings and colors are water soluble, but may stain.
Made in China
Read our policy on imported items
You might also like...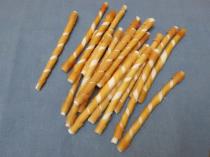 only
$4.40
Combo Rawhide & Porkhide twist sticks
add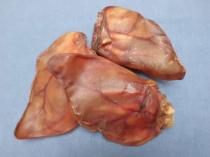 Product from Brazil
only
$41.25
Pig Ears - 25 pig ears
add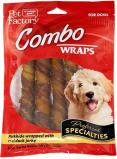 only
$4.95
Porkhide Twist Rolls w/Duck Meat, 6in, 4pcs
add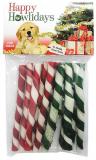 only
$5.00
x 12pk 5in Holiday Porkhide Twist Sticks
add
1 reviews
|
Read all reviews
Featured positive reviews:
Makes them CRAZY!
06/21/2019
I have no idea what is different about these and the regular brown porkhide twists but they went crazy with them. OUr house of hounds run around tossing these in the air and playing like little toddlers. They love to chew them and share them with each other. We are always giving them new stuff and i-pets does a great job in proving great stuff. We value the happiness and health of our animals, ipets helps with that goal.
Munchy Mini Rolls for Precious
02/05/2018
Precious our dog absolutely loved the mini munchy rolls. She loves them so much that I just reordered nothing but them. The other twist rolls are ok but she just devours the others. Thank you So Very Much!!! She is our whole life and she is very picky!!!