Porkhide twist rolls, 5in, 30 pk
| Read all reviews

5" Natural Porkhide Twist Rolls 30 rolls per pack

only $13.50



More information about: Porkhide twist rolls, 5in, 30 pk
Each twist is 5" long, with a circumference of approximately 1/2 inch - twists are solid wound, with no filler
30 pieces per pack
Flavor coatings and colors are water soluble, but may stain.
Made in China
Read our policy on imported items
You might also like...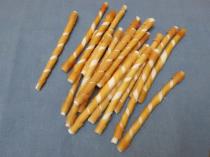 only
$4.00
Combo Rawhide & Porkhide twist sticks
add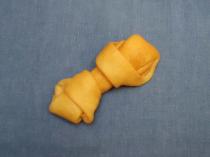 only
$2.00
Smoked Porkhide Bone, 4in, 2pcs
add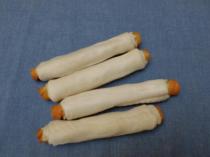 only
$4.00
Combo Pig Blanket
add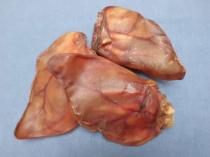 Product from Brazil
only
$37.50
Pig Ears - 25 pig ears
add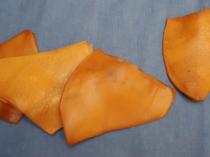 10 piece pack
only
$5.00
Porkhide Chips, 10pcs
add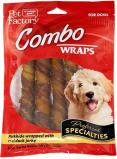 only
$4.50
Porkhide Twist Rolls w/Duck Meat, 6in, 4pcs
add
27 reviews
|
Read all reviews
Featured positive reviews:
Good Product, But Not For My Guys
01/31/2018
When the price of rawhide I generally buy my guys jumped 40% in the space of two weeks, I needed a more reasonably priced alternative. Abigail and Rudy, pit mix rescues, have, shall we say, sensitive digestive systems. I finally got the food/snack combination worked out preventing the room clearing flatulence we've come to know, but not so much love. Then the price increase.

I ordered the Porkhide Twists. They absolutely loved them. It took them longer than 10 minutes to inhale them (a plus), they liked the taste (a plus) and two per evening seemed to satisfy them (a plus). Unfortunately, the flatulence stink-o-meter registered 11. It was brutal.

I'm sorry to say that my olfactory senses will prevent my ordering Porkhide again, which is a shame. Price, customer service, and delivery get 5/5 stars from me.


A Party Everyday
06/10/2019
We have several rescue dogs, I love the fact I can buy in bulk, save money, and make my babies happy. It is hysterical to watch them steal from one another, hide the bones - in plain sight - then the other dogs steal the bone from the hiding place and hide it elsewhere. ALL day hide-n-seek. Lots of entertainment. The products are great quality, excellent selection on the site, wonderful prices that allow people like us to treat our heard of hounds to varying products. After years of shopping on the site and referring friends - WE ARE STILL happy.
All Time Favorites
06/19/2018
My zoo loves every treat they get but Porkhide twists - or as we call them "oinkers" get the highest multi-tail reviews. Every size dog loves these. I cannot keep enough on hand to keep every baby happy.
Once every 2 weeks, we announce - OINKER time and they come running.
Nice size, great quality, excellent shipping, perfect product for all sizes and ages.
We only purchase from i-pets for price, quality, bulk, and quick shipping.
Best Dog Chew Value
11/06/2018
I have purchased these many times over the past few years. The price of these is amazing and my Border Collie loves them. He gets lots of great chewing at a fraction of the price of similar items available locally.

If your dog loves pigs ears, he will probably love the porkhide twist rolls. They are not as greasy as pig ears either. A plus all the way around.
All good!
09/19/2016
All good from order to delivery. Boomer knows where the bone stash closet is and sits in front of the door and bangs his nose on the door until he gets a rawhide.I have ordered 5-6 times and have absolutely no complaints. 5 star. Thank you!


PS. He really loves that the bones are made in the god ol' U.S os A!!