Clear Flavor Basted USA rawhide chips, 5 pounds
| Read all reviews

Clear Flavor Basted USA Rawhide Chips

only $34.00



More information about: Clear Flavor Basted USA rawhide chips, 5 pounds
approx. 75 pieces in a 5 lb. pack ($0.42 ea)
Internet Pet Supplies "Clear Basted" flavors are clear and odorless. They will not stain your carpeting or furniture.
We offer Clear Basted USA Rawhide in a choice of Chicken, Beef, and Peanut Butter flavors.
You might also like...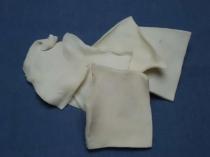 Due to labor and material increases, requests for thin and/or thick chips, small or large chips will no longer be honored. We apologize for the inconvenience.
only
$32.00
USA Rawhide Chips, 5lbs
add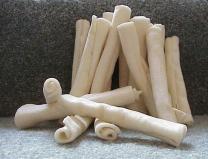 only
$18.00
Clear Basted Chip Rolls, 36pcs
add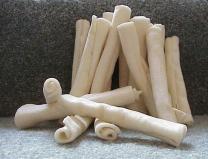 only
$16.00
USA Rawhide Chip Rolls, 36pcs
add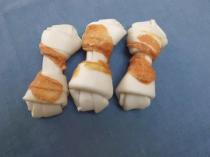 only
$2.50
Rawhide Bone w/Chicken Wrap, 3pcs
add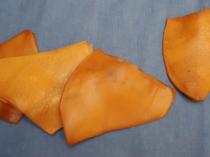 10 piece pack
only
$5.00
Porkhide Chips, 10pcs
add
194 reviews
|
Read all reviews
Featured positive reviews:
This is what I've been looking for!
01/31/2014
I have tried many different kinds of chewies for my dog and these, without a doubt, are the absolute best! He is only 14 lbs. but if the rawhide gets small enough to almost fit in his mouth, he will attempt to swallow it. These are large and thick enough that I don't have to worry so much about it. I did ask for the larger pieces and am so glad because they are absolutely perfect and he LOVES them. Thank you so much for making these.
i-pets goes out of their way to deliver!
02/04/2015
I've been purchasing from i-pets for years and if I have a special request, they go out of their way too deliver. This time, I asked for the smallest, thinnest chips for my two senior dogs and I got a bag full of what had to be hand-picked chips that were perfect for my dogs' needs. It really warmed my heart that someone at i-pets went out of his or her way to make me and my dogs happy. Thanks!
Maggie loves the chips
11/25/2013
Maggie, our Brittany, has a chip-a-day after dinner. She is a very happy dog when she gets her chip. I groom her once a month and part of the process is to clean her teeth. She has almost no tartar as a result of eating a small piece of your hard rawhide chip each day. Being a product of the U.S. is comforting to me after all the pet feed and treat problems from foreign countries.
The best clear basted chips
06/19/2013
The peanut butter flavored clear basted chips from i-pets are the best product that we have found. Our two dogs thoroughly enjoy these chips. They apparently enjoy the flavor very much. Because the chips are clear basted, they do not stain the carpet or dog beds. The clear basted chips purchased in a 5 lb. bag are a very good value. We appreciate that i-pets offers this product.
Clear basted chips
02/17/2014
Julie, I can't thank you enough for going the extra mile and hand picking the larger pieces of the clear basted chips. My three Weimeraners are enjoying them every night as an evening snack . I will continue to purchase these on a regular basis .thank you for having such a great product and knowing that they are made in the USA lets me know that my dogs are safe.
Featured negative reviews:
Not received yet?
05/17/2021
I will be glad to give a review when they arrive.
I do not have a tracking # to see when the order is coming. :(

Cindy