Clear Flavor Basted USA rawhide rolls, 4 to 5 inch, 16 pieces
| Read all reviews

Clear Flavor Basted 4" to 5" retrievers

only $16.00



More information about: Clear Flavor Basted USA rawhide rolls, 4 to 5 inch, 16 pieces
16 pieces ($1.00 ea)
4" to 5" x 1" to 1 1/2" USA Rawhide Retriever Rolls
Internet Pet Supplies "Clear Basted" flavors are clear and odorless. They will not stain your carpeting or furniture.
We offer Clear Basted USA Rawhide in a choice of Chicken, Beef, and Peanut Butter flavors.
You might also like...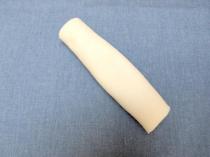 only
$14.00
USA Rawhide Retriever, 4-5in, 16pcs
add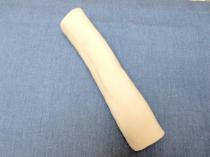 only
$29.50
USA Rawhide Retriever, 8in, 18pcs
add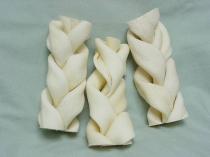 only
$6.00
USA Braid, Small, 4-5in, 10pcs
add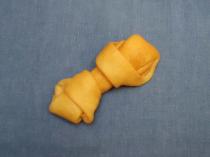 only
$2.00
Smoked Porkhide Bone, 4in, 2pcs
add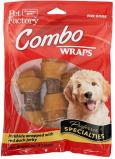 only
$4.50
Porkhide Bones w/Duck Meat, 4-5in, 3pc
add
50 reviews
|
Read all reviews
Featured positive reviews:
Dogs loved these
04/04/2013
The dogs and puppies at our no-kill shelter really love these. We do not accept rawhide processed in China or any other foreign country. Only USA products and production to protect our animals. I was thrilled to find your website where I know our animals are getting safe and enjoyable rawhide. The 5" retriever roll gives a big dogs an hour or two of enjoyment and the puppies a day or two.
Shelbi loves the rolls
01/05/2014
The rolls in the most recent shipment were made of thinner hide and lighter than any of the previous orders. Shelbi doesn't mind other than being disappointed that it only takes 20 minutes to consume a roll.
Just what we ordered
12/01/2015
The dogs are super happy to get one of these. They are just the right size for our large dogs. I pets is great for us. They have fast delivery and we love the low cost on delivery
My dogs love these chews!
05/23/2013
I always order the retriever rolls singled rolled no chips for my Eskies - they just love these chews! I order from I-Pets because I trust the company and they always deliver!
Always great
05/22/2014
Dogs love the chews and we love the price and timely response and delivery. Will continue to order our rawhides here for sure!
Featured negative reviews:
Not good
12/02/2014
Sorry but these chews were thin, lightweight, and brittle. In a very short time one of our dogs was choking on it. We had to throw them all away. They are not heavy long lasting rawhide.